---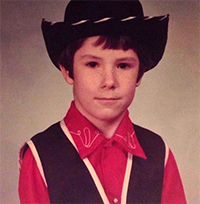 Joe Sherlock has been drawing all his life.
This led to cartooning, writing & layout for his high school newspaper, as well as working after school as a graphic artist at the school district office. A BFA in Art with a concentration in Graphic Design from Oregon State University followed, as well as editorial cartoon work for The OSU Daily Barometer for many years.
Employment in graphic design and marketing at Linn-Benton Community College followed, concurrent with co-owning a comic book and game store for 6 years, handing all advertising and promotions which included multiple comic conventions with out-of-town guest artists as well as in-store signings and other events.
Since 1995, Sherlock has also been an award-winning indie filmmaker, a veteran of over 30 feature and anthology films which have been screened at festivals and conventions across North America. Sherlock is co-producer and director of photography for "Manos Returns," the official sequel to the cult classic and Mystery Science Theater 3000 favorite, "Manos: The Hands of Fate."
An accomplished illustrator, Sherlock's graphic novel entitled "Demonized," was published by Hard Case Comics.